A hotel boudoir shoot can be incredibly fun and luxurious experience! If you plan it right, you can even turn your boudoir session into a mini staycation.
To help with your plans, I've compiled a list of my very favorite Chicago hotels that will be picture perfect for your boudoir photoshoot. At the very end, I'm including my favorite tips in planning a hotel boudoir shoot so be sure to read!
The Langham
The Langham hotel is a personal favorite of mine for boudoir. Located in the heart of downtown Chicago, the rooms at the Langham feature timeless, classic decor and floor-to-ceiling windows which offer gorgeous lighting!
While the Deluxe Premier rooms are perfectly adequate for a boudoir shoot, if you want to splurge, I encourage you to look into their suites! The suites at the Langham feature luxurious soaker tubs that would be an absolutely dream for boudoir photos.
Address: 330 N Wabash Ave, Chicago, IL 60611
Room Recommendations: The Deluxe Premier, The Regent Suite, The Lake View Suite
Website: The Langham Website
Photography Samples:
A Bridal Boudoir Session at the Langham Hotel in Chicago
A Glamorous Boudoir Session at the Langham in Chicago
The Hoxton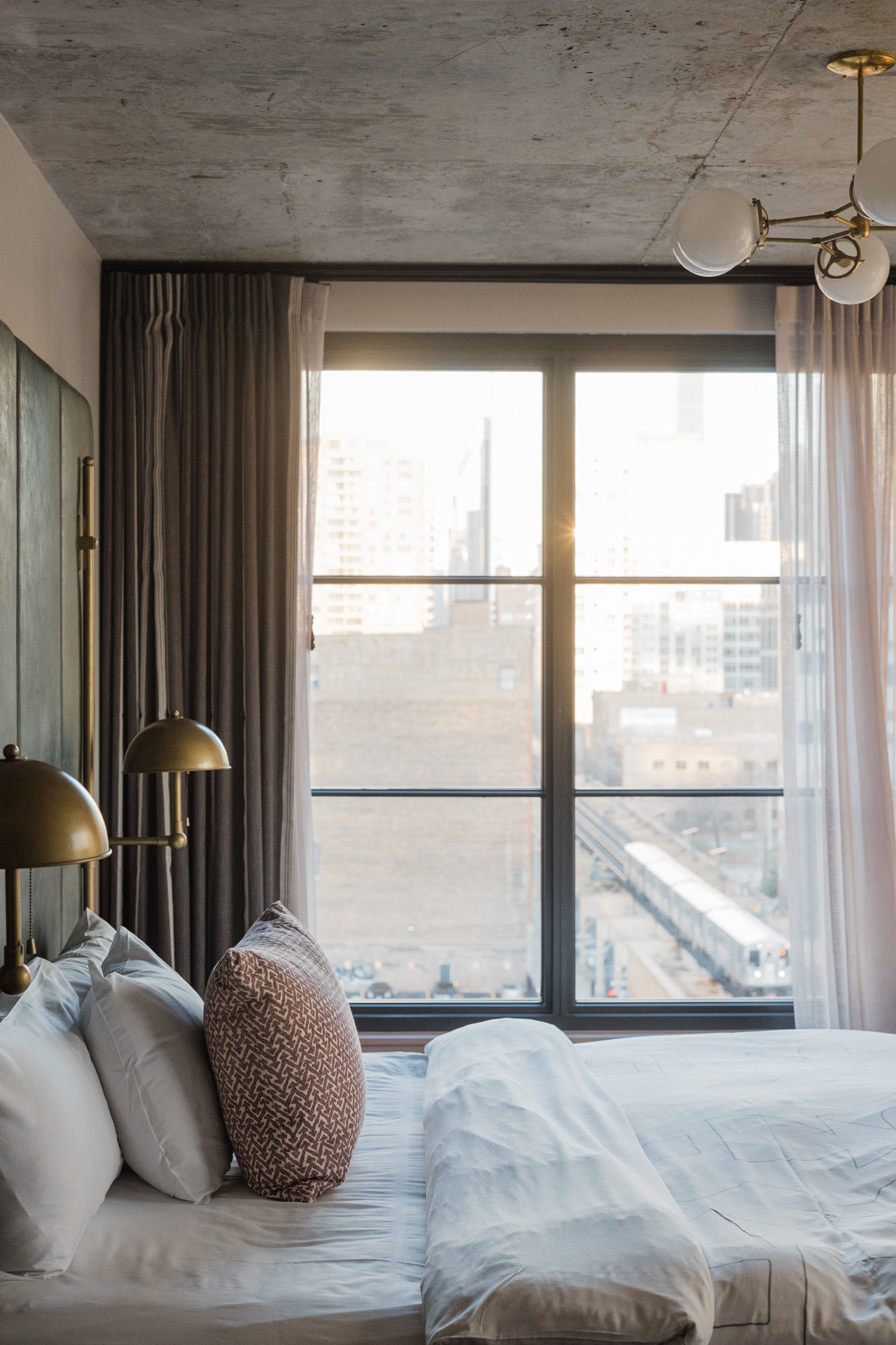 The Hoxton Hotel is located in Chicago's trendy West Loop neighborhood and features very modern, trendy decor to match.
The rooms here are on the smaller side, so I highly recommend booking the largest rooms the hotel offers, the Cosy Up or Roomy.
After your shoot, be sure to treat yourself by booking yourself a lunch reservation at Cabra, grabbing some bubbly at Cira, or taking a dip in the hotel's outdoor pool.
Address: 200 N Green St, Chicago, IL 60607
Room Recommendations: Cosy Up or Roomy
Hotel Website: The Hoxton Website
The Nobu Hotel
The Nobu Hotel is an ultra chic urban retreat in Chicago's Fulton Market neighborhood. The rooms are impeccable, designed with a modern-meets-industrial sophistication style. If you love a minimalist look and beautiful neutral color palettes, you'll love this hotel for your boudoir photos!
Treat yourself to sushi with the the girls at the fantastic Nobu Restaurant and dish over all the details of your boudoir shoot when you're done.
Address: 155 N Peoria St, Chicago, IL 60607
Room Recommendations: The Zen Suite, The Deluxe City View
Hotel Website: Nobu Hotel Website
The Robey Hotel
Nestled in the heart of Wicker Park, The Robey is a uniquely shaped triangular building that was redesigned in recent years by a pair of Belgian designers.
The hotel rooms here boast plenty of natural light, which is always key for great photos. That being said, the rooms here are small. For this reason, I highly recommend booking their larger hotel rooms for your boudoir shoot. The more angles, the better!
Be sure to enjoy their fabulous rooftop pool during summer and grab a delicious lunch at Cafe Robey after your session.
Address: 2018 W North Ave, Chicago, IL 60647
Room Recommendations: The Corner Suite, The Panorama Suite
Hotel Website: The Robey Website
Publishing House Bed & Breakfast
The Publishing House is the bed and breakfast of my dreams!
This urban oasis in the West Loop features 11 beautifully decorated rooms with a luxurious vintage-chic style.
To give yourself as many photography angles as possible, I recommend booking a medium, large or extra large size hotel room for your boudoir shoot.
Address: 108 N May St, Chicago, IL 60607
Room Recommendations: Sinclair Room, Everleigh Room, Rooney Room, Bellow Room
Hotel Website: Publishing House B&B Website
The Ambassador
The historic Ambassador hotel will always be a favorite Chicago hotel of mine! Its history dates back to the 1920's and the hotel used to host famous celebrities like Marilyn Monroe.
For boudoir, I especially love the light and airy feel throughout. The rooms feature floor to ceiling white draping, white furniture and bedding and a neutral color palette. For the best results, I highly recommend booking a suite and if you feel like splurging, The Terrace West suite has its very own private balcony with views of the Chicago skyline. This could be a beautiful option for some unique outdoor boudoir photos during the Chicago summer season.
Address: 1301 N State Pkwy, Chicago, IL 60610
Room Recommendations: The Junior Suite, Terrace Suite West
Hotel Website: The Ambassador Website
The Drake, Oak Brook
For those looking for boudoir hotel options in the West Suburbs of Chicago, I highly recommend the Drake in Oak Brook. Their Premium rooms feature moody dark gray walls, small chandeliers over the bed and elegant furnishings throughout.
And if you want to turn your boudoir shoot into the ultimate treat yourself day, book a spa appointment for after your photoshoot or grab lunch with the girls at Beatrix.
Address: 2301 York Rd, Oak Brook, IL 60523
Room Recommendations: The Premium King Room or Suite
Hotel Website: The Drake Oak Brook Website
The Graduate, Evanston
Steps from the charming Northwestern University campus, the Graduate Hotel in Evanston offers a classic, vintage style. This is perfect for women who may want a more "cozy cottage" feel to their hotel boudoir photos.
Different from most other hotels in the Chicago area, their beautifully decorated rooms feature unique wallpapers, cozy furnishings, patterned rugs, and soft color palettes. Every room is unique so be sure to look through the website linked below.
Address: 1625 Hinman Ave, Evanston, IL 60201
Room Recommendations: Graduate Corner Lakeview King, The Queen Suite
The Graduate Website: The Graduate Website
How to Plan a Hotel Boudoir Shoot
If you love the idea of doing your boudoir shoot in a hotel, here are a few tips to make the most of it.
Select a hotel room filled with plenty of natural light. Good lighting is key to great boudoir photos!
Find a room that includes an additional seating area. This can be a suite or simply a standard room with a cozy reading nook. The more furniture we have, the more variety we can add to your boudoir photos.
Prioritize hotels with neutral color palettes. Think: white bedding, neutral walls and flooring. Hotel rooms with bold pops of color can be distracting and may not go with the lingerie you have planned. That being said, color isn't always a bad thing. Ultimately, find a room style that goes with your preferred aesthetic.
Schedule your boudoir shoot during the middle of the week and/or during tourism off-season times for the best price.
If you find a hotel room with an amazing soaker tub or beautifully designed bathroom, consider packing a set of swimwear! At the very end of your shoot, you can take some bubble bath-inspired boudoir photos.
Ask hotels if they offer a half-day rate to save a little money. Not all hotels offer this, but it never hurts to ask!
If you are envisioning a luxurious boudoir experience and would like more information about working together for your boudoir session, I'd love to hear from you! Please visit my website for more information and reach out by visiting my contact page or emailing me directly at ashley@artistrieco.com.
Do you have a favorite hotel that's not listed here? If so, I'd love to hear from you in the comments!